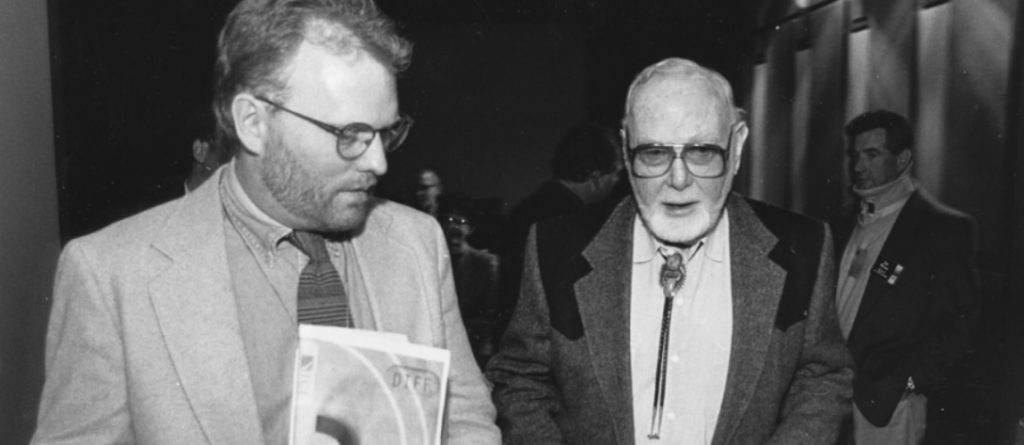 Peter Jones and westerns actor Harry Carey Jr. at the Denver Film Festival. Photo by Larry Laszlo
… of cabbages, kings etc.
Major writing project? Press release? Article? Blog? Book? Video script? Editing job? Need to transform your "story" into something readable and interesting? Try the All Purpose Communicator. Serious messaging power without the harsh chemicals.
Peter Jones, an award-winning writer, editor, reporter and broadcaster in Colorado, is available as a journalist, marketing writer, ghost author, script writer and voice talent. He has been a reporter, editor, talk-show host, producer, critic and all-purpose communicator for as long as he can remember.
In addition to working for nonprofit, business, government, marketing-agency and creative-artist clients, Peter has reported for such print, web and broadcast outlets as Billboard, National Public Radio, AOL, 5280 and The Christian Science Monitor.
​Peter M. Jones
303-781-8401
Award-winning journalist:
Highly skilled, performance-driven journalist with extensive experience developing, writing and editing award-winning news, features and enterprise stories for a wide range of larger and smaller media. Broad familiarity with AP style, narrative and traditional writing, and journalistic best practices. Well versed at developing, writing and editing award-winning content for non-media clients. Excel at applying the skills of a diverse feature writer to create successful marketing and website content.
Select Accomplishments:
· Used diverse skillset to write for regional, national and international publications, including front-cover magazine profile pieces
· Co-led reorganization of weekly-newspaper newsroom, creating both new efficiencies with a smaller staff and a superior, more consistent product
· Edited newspapers and regional magazine, overseeing major transitions in content, design and emphasis
· Received numerous excellence awards from the Society of Professional Journalists, the Associated Press, the Colorado Press Association and the Colorado Broadcasters Association, among others
· Coached award-winning writers on their enterprise stories
· Serviced large and small business clients with website content and marketing, specializing in applying skills of a diverse feature writer to a marketing or public-relations mission
Journalism and Writing Experience:
Freelance Writer, Editor and Broadcaster: Englewood, Colo. 1986-current. Published in Billboard, among other national magazines and websites, and regionally in 5280, The Colorado Statesman and other publications. Contributor to radio networks, including National Public Radio and the former broadcast service of The Christian Science Monitor. Write and edit marketing, blog and press releases, as well as ad and web copy for clients, including governments, businesses, corporations, nonprofits, musicians and filmmakers, often using narrative writing techniques to help clients reach and engage their audiences. Ghost-author autobiographies and memoirs for keepsakes and self-publishing. Write and edit program materials for film festivals and other events. Contracted as assignment editor for Federal Newswire of Advantage Informatics, a national full-service news-content vendor that services a wide variety of media clients across the United States. Researcher for documentaries and television programs, including courtroom reality's Hot Bench television program. Write television and film scripts. Write and voice movie trailers and commercials.
Sundance Institute: Park City, Utah. 2022-2023. Festival Editor. Edited wide range of film synopses, capsules and other marketing material for prestigious 2023 Sundance Film Festival's catalog, website and promotional publications, correcting for style, flow, accuracy and continuity. Proofread the festival's various finished marketing products prior to publication. Wrote preview blogs in advance of the festival. Attended festival in person to write and report coverage of films and panels for the event's website.
The South Metro Villager: Greenwood Village, Colo. 2011-2018. News Editor/Lead Reporter. Made assignments and edited weekly newspaper emphasizing south metro Denver. Wrote award-winning stories and "Left Unedited," an offbeat behind-the-scenes-of-the-newsroom column. Led successful efficiency-centered reorganization, leading the editorial-production team with managing editor.
Life on Capitol Hill: Denver, Colo. 1999-2018. Music Columnist. Interviewed and profiled nationally recognized musicians and covered Denver music scene for enduring and award-winning "Life Music" column in urban monthly.​
Colorado Community Media: Littleton, Colo. 2004-2011. Lead Enterprise Reporter. Covered general news and produced award-winning features for conglomeration of weekly newspapers and websites. Coached and edited other writers' long-form and investigative stories.
Digital City Denver: Denver, Colo. 1997-1998. Film Critic. Established "Take One," weekly movie review column for service of AOL.
Exposed: Denver, Colo. 1997-1998. Editor-in-Chief. Wrote, edited and managed editorial content for a quarterly trade journal covering the Colorado film, video, cable and satellite industries. Oversaw redesign of magazine published by the Colorado Film and Video Association.
Colorado Public Radio (NPR): Denver, Colo. Format: News. 1990-1996. Reporter. Produced in-depth, award-winning NPR-style features on general news, arts, politics and business. Worked regular membership drives and served as back-up news host. Freelanced stories for National Public Radio, Public Radio International and other networks. CPR is a three-stream statewide radio network broadcast on public radio stations across Colorado.
General Media Experience:
Starz: Douglas County, Colo. 1998-2003. Screener/Evaluator. Evaluated movies, wrote synopses and assigned television ratings and content advisories for broad array of film product aired on multi-channel network of national movie channels. Streamlined process for greater efficiencies.
KWAB-AM (Working Assets): Boulder, Colo. 1999-2000. Format: News/Talk. Talk Host/Producer. Conceived, co-hosted and produced Prove It!, a weekly multi-guest talk show emphasizing critical examination of claims from the worlds of science, health, religion, paranormal, history, politics and popular culture. Generated coverage by press, specialty websites and documentary filmmaker.
News-Talk and Music Host: 1986-1990. Hosted and/or produced wide range of in-depth, news-oriented and general-interest talk shows, including afternoon-drive programs, business-news broadcasts and entertainment shows, for Denver radio stations, including KNUS-AM. Music announcer for KUNC-FM, an NPR affiliate in Greeley, Colo.
Education:
University of Colorado: School of Journalism and Mass Communication. Boulder, Colo. Bachelor of Science.
Digital Workshop Center: Fort Collins, Colo. Digital Marketing Certificate. Emphasis on such subjects as search-engine optimization and social-media marketing.
Volunteer:
Spirit of HOPE Foundation (Helping Our People Excel): Englewood, Colo. 2018-2021. Member of Board of Directors for nonprofit foundation, food bank and thrift store.