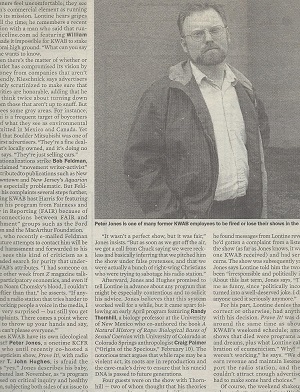 From 1999 to 2000, Peter Jones and T. John Hughes co-hosted Prove It! on Working Assets Broadcasting in Boulder, Colo. Heard on KWAB-AM and worldwide via internet, the two-hour talk show focused on critical examination of unproven claims from the worlds of science, health, religion, paranormal, history and politics, delving into everything from conspiracies and contentious anthropological theories to psychic phenomena and Virgin Mary sightings. The often-controversial multi-guest show was avowedly skeptical of all sides–in a healthy and open-minded way–but also respectful of everyone, generating some ire, but also attention from the press, skeptics' websites and an independent documentary filmmaker. Some of the full two-hour broadcasts are below.
Who killed JFK?
Debate: Gary Cornwell, deputy chief counsel, House Select Committee in Assassinations, and John McAdams, instructor on assassinations at Marquette University
Attorney Mark Lane, author of Rush to Judgment, discusses his successful civil "prosecution" of E. Howard Hunt.
Eyewitness Malcolm Summers
Are 'psychics' real?
The magic word: Psychics Barbara Leutwiler, Courtney Morganis and Dr. John Serbone accept the $1,000 challenge.
The anthropology of rape
Randy Thornhill, co-author of The Natural History of Rape, Linda Mealey, author of Sex Differences: Developmental and Evolutionary Strategies, and Alan Berkowitz, psychologist and researcher
Theresa Rowe, Colorado Coalition Against Sexual Assault, and psychotherapist Walt Simon
Why do fools fall in love?
Does "love" exist? Is it provable? Can it be bottled like Love Potion No. 9? We ask Michael Webb, author of The Romantic's Guide, psychologist/talk show host Audrey Brodt, antropologist/author Helen Fisher and Dr. Pierce Howard, author of The Owner's Manual for the Brain.
What is love? A panel with Mike Pinder, former keyboardist/ songwriter for the Moody Blues, porn actress/producer Gloria Leonard, poet Randy Roark and Colorado actress/director Pam Clifton
The ups and downs of psychiatric meds
Dr. David Cohen, author of Your Drug May Be Your Problem, Dr. William Appleton, author of Prozac and the New Anti-depressants, and performance artist/patient Don Becker
Dr. Fred Bowman, producer of ADD: Total 100% Fraud, singer/patient Lannie Garrett, and drug critic and former patient David Payne
Filmed segments of the above program were featured in the documentary film A Farewell to Arms: The Don Becker Story by director Robin Beeck, as were audio clips from Peter Jones's profile of Becker on Colorado Public Radio. Read the late Becker's unusual story on the News and Feature Journalism page.
A survey of unusual beliefs
The Greek god Apollo as spiritual starship commander

The hollow Earth
The "inter-dimensional" Uranius universe
The science of chiropractic
Debate: Frank Martin, D.C. and Steven Barrett, M.D.
Drs. Martin and Barrett joined by Erin Elster, D.C. and MS patient/advocate Matthew Boag
Roxanne Beddenbaugh, mother of "victim"
12-step vs. 'rational recovery' vs. moderation
Mel B., author of Ebby: The Man Who Sponsored Bill W., Eric Emerson, Rational Recovery, and H. Dave, Moderation Management
Tom Brewster, addiction researcher at University of Colorado Health Sciences Center, and Morris Chafetz, Presidential Commission on Drunk Driving, and author of Drink Moderately and Live Longer: Understanding the Good of Alcohol
... and then along comes Virgin Mary
Mother Ignacius Macelli, apparitionees Margaret Carlin and Sandy Rasmussen and Rev. Frederick Jelly, investigator
Paul Williams, author of Everything You Wanted to Know About the Catholic Church (But Were Afraid to Ask for Fear of Excommunication)
Michael Shermer, author of Why People Believe Weird Things
What happened to the Lindbergh baby?
Debate: Former FBI agent Jim Fisher, author of The Ghosts of Hopewell, and Gregory Ahlgren, author of Crime of the Century: The Lindbergh Kidnapping Hoax
Robert Bryan, former attorney for Anna Hauptman, widow of accused kidnapper/murderer
Kenneth Kerwin, the grownup Lindbergh baby?
Who killed MLK?
Philip Melanson, author of The Murkin Conspiracy and other books on the subject and coordinator of the Robert F. Kennedy Assassination Archive
FBI historian Athan Theoharis, author and researcher for the Senate Church Committee
Attorney James Lesar, president and co-founder of Assassination Archives and Research Center